CLASSIC EXCHANGE NEWSLETTER
SEPTEMBER – OCTOBER

 

2017
Thank you to ELECTRIC RADIO MAGAZINE and Ray Osterwald, N0DMS, ER Editor,
for the continuing support in publicizing the CX.
http://www.ermag.com/
Farewell to Mac WQ8U !
I have been privileged to be the CX coordinator, CX Newsletter editor and CX website webmaster for the past twelve years which I have totally enjoyed. I believe the time has come to hand the keyboard to others with more time and energy to commit to maintaining, improving, and continuing this wonderful contest.

For over forty-one years CX has been bringing the Classic rigs back to the airwaves, bringing nostalgia to older hams and introducing recent hams to the unique character of Classic rigs.
<![if !supportLineBreakNewLine]>
<![endif]>
I have turned CX over to Ron K2RP and Mark K3MSB, two outstanding long time CXers, who will continue the finest traditions of CX and lead it into its fiftieth anniversary.

73
Mac WQ8U
᷉  ᷉   ᷉  ᷉   ᷉  ᷉
Mac – Ron and I wish you well and I'm sure we reflect the sentiments of all the CX gang when we say a warm and hearty "Thank you" for all the time and effort you've put into making the CX the success it's been.    We can only hope to bring the same level of excellence to the CX as you have!
You can read the individual reports BY scrolling below the Scores Table.
Category:  Three or fewer transmitting / receiving Pairs:
| | | | | | | | |
| --- | --- | --- | --- | --- | --- | --- | --- |
| CALL | NAME | CW SCORE | AM SCORE | SSB SCORE | BONUS | TOTAL | |
| K2RP | RON | 7290 | 10400 | 21798 | | 39488 | HIGH AM & SSB |
| K3MD | JOHN | 32076 | | | | 32076 | HIGH CW |
| K4JYS | BILL | 15093 | | | 3000 | 18093 | |
| JO3TAP | TOMO | 6864 | 3696 | 5104 | | 15664 | |
| K3MSB | MARK | 13989 | | | 1000 | 13989 | |
| W4BOH | WILSON | 7272 | | | 1000 | 8272 | |
| WB2AWQ | HOWIE | 5684 | | 318 | 1000 | 7002 | |
| W8GKI | | | | 1743 | | 2743 | |
| VE7BGP | GERRY | 2700 | | | | 2700 | |
| W7OS | RANDY | 2112 | | | | 2112 | |
| W2JEK | | | | 120 | | 120 | |
Category:  Four or more transmitting / receiving Pairs:
| | | | | | | | |
| --- | --- | --- | --- | --- | --- | --- | --- |
| CALL | NAME | CW SCORE | AM SCORE | SSB SCORE | BONUS | TOTAL | |
| JA3KNB | KAZU | 342662 | 104412 | 205160 | 2000 | 654234 | HIGH AM &CW |
| N6KN | ROCCO | 26740 | | 286672 | | 313412 | HIGH SSB |
| W8UT | AL | 13662 | | | | 13662 | |
Here's a listing of all the different kinds of vintage gear worked during the CX.  The list was compiled from the submitted logs, summaries etc.  
Transmitters:
| | |
| --- | --- |
| B&W | 5100B, 6100 |
| Central Electronics | 100V |
| Eldico | SSB-100F |
| Drake | 2NT, T-4X, T-4XB, T-4XC |
| Globe | Scout 65 |
| Gonset | GSB-100 |
| Hallicrafters | HT-32, HT-32B, HT-37, HT-46 |
| Hammarlund | HX-50A, HX-500 |
| Heathkit | AT-1, Apache, Cheyenne , DX-40, DX-60, SB-301 |
| Homebrew | HB-6MJ6, HB-3W, HB-100W |
| Johnson Ranger, | Viking 1, Viking 2, Valiant |
| Kenwood | T-599 |
| Meissner | Signal Shifter |
| Military | BC-459A, BC-455B, ARC-5, Navy TBW, Navy GO-9 |
| Millen | 90800 (20W) |
Receivers
| | |
| --- | --- |
| Drake | 2B, 2C, R-4A, R-4B, R-4C |
| Collins | 75A3, 75A4 |
| Hammarlund | HQ-100, HQ-120, HQ-129X, Comet Pro |
| Hallicrafters | SX-25, SX-71, SX-101A, SX-115 |
| Heathkit | Mohawk, SB-401 |
| Kenwood | R-599 |
| Military | BC-696A  BC-454B, BC-348, R-392 |
| National | HRO-50, HRO-5AT1, NC-173, NC-270, NC-303 |
| RME | 6900 |
Transceivers
| | |
| --- | --- |
| Collins | S-Line, KMW-2A |
| Atlax | 210X |
| Drake | TR-3, TR-4, TR-4C, TR-4CW, TR-7 |
| Heathkit | HW-16 /VFO-122, HW-101, SB-101, SB-104A |
| Hallicrafters | SR-400A, SR-2000 |
| Kenwood | TS-440S, TS-480, TS-530, TS-530S, TS-820, TS-900, TS-2000 |
| Swan | 350, 500C |
| Ten Tec | 540 (Triton IV), Argonaut 6, Argonaut 509, Argosy,  Omni 6, Omni C, Corsair, Corsair 2 |
| Yaesu                    | FT-101B, FT-840 |
JO3TAP
Tomo, Osaka Japan
Dear Mac San
How are you doing Mac San!  I will send the report of SepOct 2017 CX.
I also enjoyed a wonderful CX Contest without problems this time. FT101 was good!
But We regret that Taka(JF3RDE) passed away.   Please pray for him.
Thanks CX!
SCORES FOR THREE OR FEWER RECEIVER-TRANSMITTER PAIRS
CX Machinery List(2017 Sep)CW 20m,15m
FT991AM、FT2000D 、FT101B(1973)(44y)
TOTAL 88 years
CX Machinery List(2017 Oct)SSB,AM 15m
FT991M、FT2000D 、FT101B(1973)(44y)
TOTAL 88 years
SCORE SUMMARY
78 CW QSOs(Tuesday)
88 Total age of CW gear
CW Score 6,864
58 SSB QSOs(Tuesday)
88 Total age of CW gear
SSB Score 5,104
42 AM QSOs(Tuesday)
88 Total age of CW gear
AM Score 3,696
GRAND Total 15,664
73 Tomo Sakata JO3TAP
K4JYS
BILL – SMITHFIELD, NC
THREE STATION CATEGORY – CW
K4JYS EQUIP. USED:
VIKING 2 (1952)    65 YRS
SX-71  (1950)         67 YRS
Globe Scout 65 (1954)    63 YRS
HQ-129X (1945)             72 YRS
DX40 (1958)            59 YRS
HQ100 (1956)          61 YRS      
TOTAL YEARS:  387
TOTAL QSO's: 39
POINTS: (YRS X QSOs):  15093
BONUS POINTS: NOVICE XMTR – DX40  (1000 PTS)
                                                RCVR – HQ100 (1000 PTS)
                             WRL TX – Globe Scout 65  (1000 PTS)
TOTAL BONUS PTS ---------------3000 PTS
TOTAL SCORE---------------------- 18093
COMMENTS:  Can't remember for sure but I believe the CW CX got off to a slow start due to a pretty intense radio black-out. Anyway, I operated just on 40m. Once again N2AK dominated the loggings…   18 times…   tnx Mario. All rigs worked well with no problems. Once again, great fun…thanks to all I worked and to Mac and crew.
73 de Bill K4JYS
W2JEK
Don – River Edge, NJ
Hi Mac,
Here is my entry for the October 2017 Classic Exchange.
I made 3 qso with my Yaesu FT-840 Xcvr which is 20 years old using the SSB mode.  All were made on October 3.
Scoring 3 qso X 40 years = 120 score
Sorry I didn't have more time.  Hope to do better next time.
MAC I hope you are feeling better.
73 Donald Younger W2JEK
W7OS
Radio Club of Tacoma's "Doc Spike Memorial Museum" – Tacoma WA
Total CW QSOs:  12
Age of CW gear qualified Sept 10-13:
| | | |
| --- | --- | --- |
| Radio | DOB | Age in 2017 |
| Eldico SSB100F transmitter | 1957 | 60 |
| Heathkit Cheyenne transmitter | 1961 | 56 |
| Colllins 75A4 receiver | 1957 | 60 |
| | | 176 |
W7OS is the call sign of the Radio Club of Tacoma's "Doc Spike Memorial Museum". Doc W7OS, a dentist, was a founding member of the club and active in it throughout his life.  RCT (W7DK) is in its 100th year and has a collection of old radio equipment that various Museum Committee members restore and operate.  The Eldico SSB-100F has been in our queue for several years, and this year we got around to working on it (most of the effort was put in by Rich KR7W).  It took a couple of outboard power supplies to make it go, but we were pleased and proud to get it on the air for this year's CW CX event.
| | |
| --- | --- |
| Eldico SSB100F transmitter, minus a shorted power transformer and some other power supply components, supported by outboard HV (left) and MV/bias/filament (right) supplies, as used in the September operation.  Once a permanent power supply is constructed, the SSB100F will be a permanent mate for the 75A4 receiver used at W7OS. | |
| Heathkit Cheyenne transmitter, with clip-lead PTT arrangement.  We have the matching Comanche receiver, but it proved too unstable and will have to wait for another CX to see use on the air. | |
| Collins 75A4 receiver, one of two workhorse Collins receivers at W7OS. | |
W8KGI
Jim – Sandia Park, NM
Mac,
That note I just forwarded to you reminded me that I owe you a CX report.
As you know, I completely forgot about the CW CX this time! I did get on Sideband on 10/1 and made one contact on 20 and six contacts on 40, none with other CXers and none using vintage gear. I listened for CX AM activity, but heard none. I qualified the HRO-50 (novice receiver), Central Electronics 100V, 75A4, and HT32 for an age multiplier of 249. My raw score was 1743, and that plus 1000 points for the HRO yields 2743.
I promise not to forget the CW CX next time!!!
73,
Jim, W8KGI

<![if !supportLineBreakNewLine]>
<![endif]>
W8UT
Al – New Bern, NC
Hi Mac,
I've attached my log for the 9/17 CW CX.
Good showing (for me), 661 total age, 22 QSO's = 13,662 points. Don't remember now what problems I had, etc. the Invader 2000 was still down, since it quit for the last CX.   And the SR-2000 wouldn't load up decently on 40m, but did manage 1 QSO with it.
Propagation was in the pits for the phone section, I didn't even try.
Thanks for keeping it alive.
73,
Al, W8UT
WB2AWQ/7
Howie – Reno NV.
Howdy CXers!
This CX found me with sort of a challenge. I had had a heart attack mid-May, where they discovered an aueurysm which also needed attention. Had to wait three months from the heart attack to repair the aneurysm, during which time I could not lift more than 10 lbs, strict diet, the whole nine yards. I knew that after the aneurysm surgery I would not be allowed to do much for a while either.
So before going in for surgery  (open heart on the aneurysm, plus an aortic valve change) just 17 days before CX, I decided to take the three station route, and was pretty much limited to what was already out and easily hooked up to go. This left me with my GO-9 (my favorite transmitter), paired with my original Novice BC-348 receiver, a Millen 90800 transmitter and 90700 VFO which I paired with an HRO, and a great performing Swan 350 transceiver. Sounded like a winner to me under the circumstances. I felt well enough to partake modestly in CX for the CW portion, but how do you overcome an X8.2 solar flare which happened just 3 hours into the CX time! Boy the bands really were pathetic!
Managed one QSO on 20M with Mark K3MSB, my only cross country QSO. Most of the rest were on 40M, (two on 80M with Ron K2RP) where there was enough activity to overcome the ins and outs of a band under solar siege. I did qualify all three setups over just a couple hours on the air. But I did notice that many of the CX regulars weren't around.
In their places, however, I did work three new calls: Randy, W7OS at the Dr Clifford J Spike Memorial station, who was running a great sounding Eldico SSB100 and a Heath Cheyenne, Darwin K5DOA, running a nice sounding HB transmitter with a 6JE6, and Mark AA7FY with a Kenwood TS-820 (believe it or not, that rig is 40 years old!).
Mark W7ESN was running his fine sounding HB transceiver, and Tom K6LQI was running his TBW – even with its 813 final, and modded VFO – with a strong signal.
My last CW QSO was on Tuesday, with John WB8APR, on 20. I remember John's call because I worked him about 10-11 years ago back in NJ on 40M mobile CW on Christmas Day.
Two weeks later, along comes the CX phone event. Now I haven't made a CX phone contact in at least two years, and I think my last non-CX phone contact of any kind was at least three years ago. Of the three rigs I chose to use this year, only the Swan 350 was good for phone. Picked out my trusty but very old EV 714 mic to use with it (it's the only one with a ¼" microphone plug). Then, I dropped the mic on the concrete floor in the shack. Not on purpose! The plastic on the mic was obviously NOT up to snuff after too many years in service. Googled the 714, couldn't find an age for it, but it's at least 25-30 years old, probably a bunch more. In any event, the mic case sorta came apart on contact with the concrete. The result is below, but the mic still worked, no unseemly comments on the audio! I made all of two contacts on SSB, one with a new "face" in CX, Terry KF0HR in North Dakota on 20M, who was running a Drake TR7, and Fox W7FOX in AZ on a Heath SB101 on 40M. Made lots of calls, but no other CXers around. Bands weren't real busy but there WERE signals!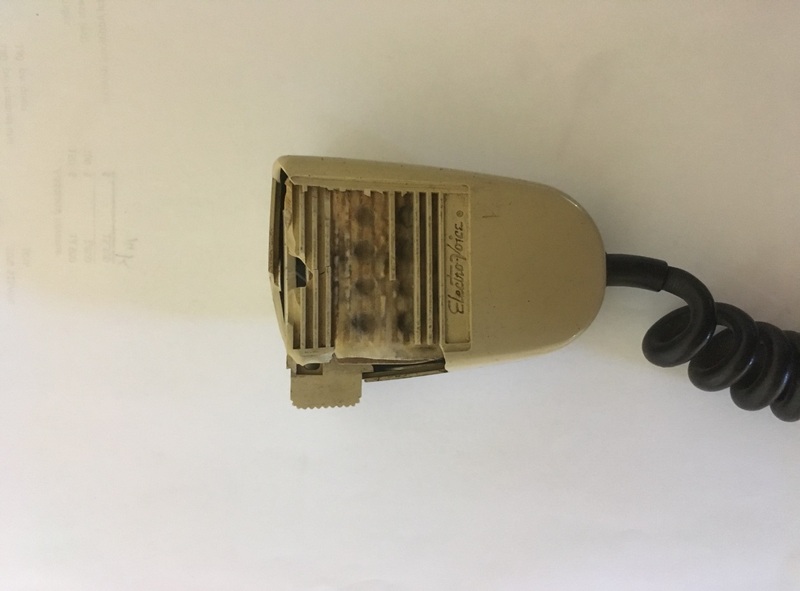 Final CX score, 17 QSOs with 406 CX equipment years, plus bonus points for my Novice (the original even!) receiver was 7902.
So, given the atmospheric, microphone,  and personal situations, I'm pretty pleased with the performance! See you all in Feb…..
73, Howie WB2AWQ/7
K3MSB
Mark – York PA
CW Report:
I started off Sunday morning on 20M before worship and qualified my B&W 5100B and SX-101A combo. The band was not in great shape but I did manage to work Randy W7OS in WA who was using an Eldico SSB-100S transmitter and Collins 75A4 receiver.  
Sunday afternoon I got on 40M around 2PM EST with the 40M components of my SCR-274N setup which consist of a BC-459A transmitter and BC-455B receiver.  Band conditions were not good but I was delighted to qualify my radios within about 15 minutes.    I'm not sure when the CME hit but I returned to 20M with my 5100B/SX-101A and only stayed for about an hour.     During that hour I worked Rocco N6KN and Howie WB2AWQ on the west coast.  
Sunday night I ventured onto 80M with the 80M component of my SCR-274N setup which consist of a BC-696A transmitter and BC-454B receiver.   I only made three contacts and shut down for the night at around 0030Z.  The bands were terrible!
On Tuesday night I stayed on 40M with my BC-459A & BC-455B.   I was very surprised when Rolf DL6ZB answered my "CQ CX"!    He wasn't in the CX but it was neat to work some DX with the ARC-5 gear!
Typically 80M is a mainstay for me during a CX  but I only made three contacts on Sunday evening.   I heard no other CX activity on 80M later that night or on Tuesday night.
Rigs qualified:
B&W 5100B / SX-101A
BC-459A / BC-455B   (Part of SCR-274)
BC-696A / BC-454B  (Part of SCR-274)
N6KN
Rocco – Rancho Palos Verdes, CA
CW Notes:
Started CX at 1500Z on 40 meters with "good ole" BW6100/75A-4.  Worked Randy, W7OS, with his very nice sounding Eldico SSB100F, and then started to hear Ron, K2RP, at 1530.  Ron's QTH is just down the southern California coast from my Palos Verdes QTH, so you would think it would be easy to work him – but it never is.  The distance is just long enough to require some sort of NVIS bounce on 40, and we have had very long propagation early in the mornings on 40.  Ron and I managed to qualify a few "stations" until around 1715Z.  At that time, a CME hit and basically wiped out all HF propagation.  20 and 40 were completely silent except for local ground wave stations.  I picked up a few locals, including Paul, N6EV, with his great Drake 2NT and 2C combination.  I decided to give the bands a rest and tried 20 at 2100Z.  The bands were beginning to recover from the CME, and I worked a few stations, including Mark, K3MSB with his usual BW5100B.  The band was just not very populated, although conditions were not too bad.  Went back to 40 at 2200 and picked up a few locals.  I was happy to pick up two contacts with the Ranger 2/RME 6900, and one of them was John, W2XS, with his T4X/R4A – coast to coast with 50W!   Alas, that was it – not quite enough to qualify the Ranger 2.   Oh, well.  Sometimes the bands cooperate, and sometimes they don't.
SSB Notes:
I spent Thursday and Friday prior to the CX on Sunday fixing a 32S-3 and 75S-3; both required a lot more time than expected (don't they all?)  I started the CX  with Ron, K2RP, on 75 SSB on 3895 (a well-known west coast vintage SSB hangout) at 1525Z; the band was just barely open enough to hear each other barefoot, which was better than 40 or 20.  We were soon joined by Frank, KF6HF, in Huntington Beach, with his TR4.  The three of us traded QSOs for several hours, qualifying rigs as fast as they would fire up (some took longer than others).   Ron even heard my GSB-100, which was only putting out 10 W.  Surprisingly, my Galaxy V worked like a champ.  At 2130, I moved to 20 SSB on 14268 and began the usual run using the S Line and then my TR-4 with the 30L-1.  Mark, WB0IQK, sounded terrific on his Swan 400.  Other notables were WA7OEC with a Ten Tec Scout (mobile),   N6JZT, Hal, with a fine sounding Swan 350, Dave, N5PNZ, with a National NCX-5 (I never hear many of these), and Dick, K0NU, with a nice HT-32A and SX101A.  Kenwood TS-520S's were abundant, as were FT-101ZDs (but no plain FT101's – go figure).  My throat gave out at 2351, so I reluctantly shut down, even though the band was still wide open to the entire US.   Over all, conditions were much better for the SSB weekend, and I had tons of fun, as usual.  The pileup on 20 was very friendly, and many operators had stories to tell about equipment they were running, working on, or just remembered.   
CW Rigs qualified:
B&W 6100/75A-4
TR4
32S-3/75S3B
T4XC/R4C
HT32B/R4B
TS-900
SR 400A
NCX-5
SB401/SB301
SSB Rigs qualified:
SB401/SB301
TR4
B&W 6100/75A-4
NCX-5
FTDX570
32S-1/75A-4 No. 2
HT44/SX117
TS-900
T4X-C/R4C
SR400A
HT32B/R4B
Galaxy V
32S-3/75S-3/HQ170/51J4/R388/SX73
GSB-100/NC300
32S-3 No. 2/75S-3B
ATTRIBUTION AND DISCLAIMER
The CX Newsletter is intended for the enjoyment of CX participants and others interested in the restoration, operation and enjoyment of Classic Ham Gear. This Newsletter was prepared from materials submitted by CX participants, from on-the-air observations, QSOs, and publically posted comments on various reflectors.
Editorial comments on individual reports are shown in [Italics]. Any errors, omissions, or insensitive comments are unintentional. Please let us know if you have suggestions on improving the Newsletter or the CX website.
73 Mark K3MSB & Ron K2RP
4 Jan 2018